These Parmesan Garlic Knots are an easy, addicting appetizer for game day or any party! Soft homemade pizza dough knots topped with garlic, butter and Parmesan cheese! I know I'll be reaching for another! 
I am super excited to introduce you to one of my blogging Besties (Can you say that outside of High School? Not sure. Sorry, David!)!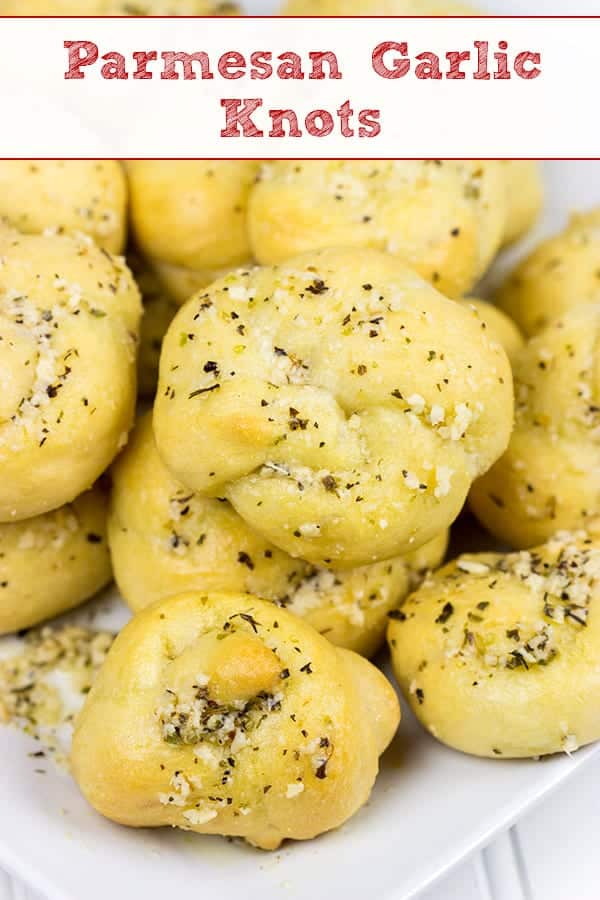 David blogs over at Spiced, where he bakes and cooks up the most fantastic creations! He is my go-to for Manly Foods like this Roasted Potato, Bacon & Onion Pizza and this Bacon and Jalapeño Stuffed Pork Tenderloin, but he also bakes up drool worthy breads, donuts (& Apple Fritters!!!) and desserts like these Turtle Brownies. Just try and tell me you can resist those brownies dripping with caramel and pecans. I think not.
I know you are dying to reach in and grab one of these Parmesan Garlic Knots but I'm not quite ready to let Dave have you.
I found David on Instagram of all places! He left an hilarious comment on one of my posts and then I was intrigued by our shared love of reading The Complete Works of Sherlock Holmes over and over again (and food, obvi). I clicked over to his blog and I've been hooked ever since! I feel super lucky to have him as a friend, mentor and general flavor inspiration!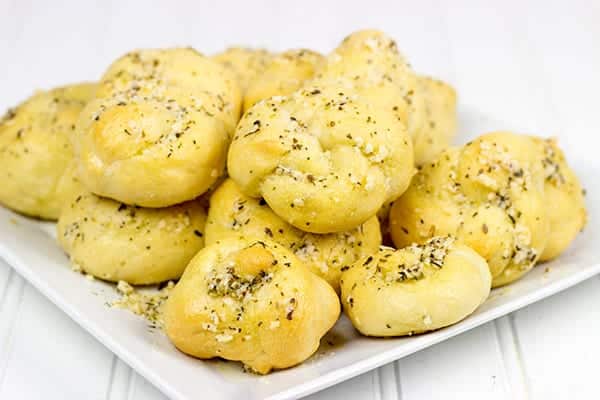 Hey there, American Heritage Cooking fans! I'm Dave from Spiced, and I'm dropping by today to bring you this awesome recipe for Parmesan Garlic Knots. As I'm sure you know, Lindsey is up in NYC settling into her gig learning how to be a pastry chef. I'm seriously jealous of her skills, and I'm sure we'll be seeing the results of her classes here soon. But for now, it's almost Super Bowl time…and that means we need delicious Super Bowl snacks. These Parmesan Garlic Knots are a favorite in our house, and I hope you enjoy them as much as we do!
Although Lindsey is up in NYC at the moment, she calls Atlanta home. I also spent a number of years living in the A, but sadly I didn't know Lindsey back then. It's probably a good thing since I would have been begging her to make me cupcakes all of the time. In fact, I was what you might call lazy back then.  I played a lot of video games and made a lot of quick (aka "really bad for you") dinners.  After all, it was just me and my dog, so the thought of actually making a real dinner after a long day at work just didn't sound like fun.  (The weekends were another story, however…but there were still only 2 days and just 1 person to eat all of the food.)